Want to know what's happening in the adult industry? What sex toys are the most trending nowadays? These top 10 best adult magazines have everything you are looking for.
They will also let you know about latest news of the porn stars, their relationships, their costumes and their upcoming films. These magazines can also be accessed online via their websites and social pages.
Moreover, they also reflect ideas about lifestyle, entertainment, politics, economy, but their major focus is on the 18+content due to which they generate high sales. The nude photographs, the white boobs, the sexiest asses and topless figures shown on their covers urge the men to buy them and gaze at them when they get ready to sleep.
The 10 Erotic 18+ Magazines | Pornographic Magazines

Wanna watch free live porn? Go to its site and enter the world of sensuality and intimacy. This Adult online website will be the best thing to watch at your spare time. Hustler can be read on a monthly basis and has been read since 1974 by the people. Showing private parts of women is the initiative by this bold magazine. Being extra explicit, it frequently discusses sex toys, orgasms, orgies, ejaculation and other hardcore topics. The owning company, Larry Flynt Publications also acquires a casino of the same name and also retails sex toys, erotic films, outfits, and booklets.

Craving for entertainment and some dirty content? Subscribe to 'Playboy' magazine, which will turn your time into an exciting journey of sex, nudity and along with this adult stuff it will also bring lots of news about the economy, movies, religion, politics and other prominent current affairs. Displaying topless models for a long time, it stopped publishing such sensual content for some time, but this year, they're back with some extra-steamy images. It entered the market in 1953 and still after 63 years, its demand is, in fact, increasing more day by day.
3. Adam Film World  – Buy Now

Adam Film World has unfortunately stopped getting published, but they've given a lot of collections of pictures of booby babes when they used to be issued. The first cover of the magazine depicted the poster of an adult film. They announce winners of their awards based on a voting system in which their readers participated. The declaration of the winners was done on an annual basis. They focus on fetish movies, couples films, music, starlets, orgy series and much more. For this hard work, they have been remarkably remembered by their subscribers.                      

This adult magazine was initially issued in 1980. Presenting soft-core porn, nudes, and other 18+ content, it posts both pictures and text. Subscribers also contribute and participate by sending photographs of girls who are not professionals and are clicked randomly anywhere, but obviously seems sensual and appealing. Owned by Blue Active Media Ltd. It can usually be found via newsagents, but also there are certain precautions to keep it away from kids and young teens. The credit goes to the Editor, Jim Harris for managing the subjects wonderfully and they'll bring more updates in the future.                                                                          
5. Penthouse – Buy Now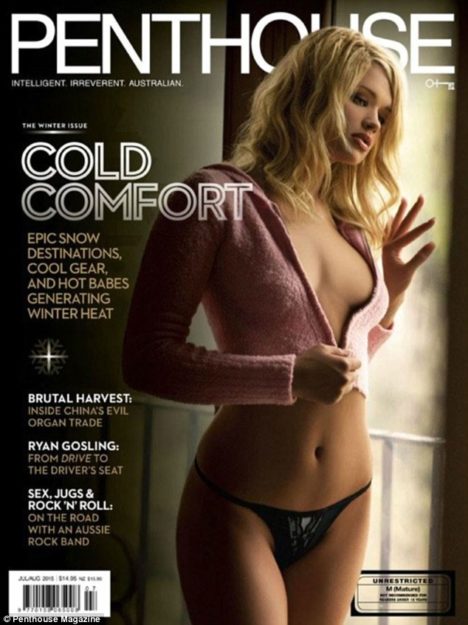 Possessed by Penthouse Global Media Inc. since last year, this men's magazine presents soft-core pornographic visuals and images. Owned by one of the Forbes' 400 richest men, Bob Guccione, it also reflects articles on lifestyle. The founder was rich because if the high sales of 'penthouse' in the United States and the United Kingdom.  It was initially issued in September 1969 on the cover of which a stunning girl's photo is there wearing a light white shirt. The theme and the objects discussed in it are immensely admired by the readers.                                      

This lads' magazine was brought by the Bauer Media Group. It was introduced on 29th January 2004. The editor Damien McSorley put a lot of interesting content in it regarding sports, entertainment, glamor, comedy, games and other stimulating stuff. The target was on the male segment and now they're continuing via their social links. In fact, subscribers can stay connected and updated by creating their accounts and blogs by posting photos. They ended up the journey of this weekly magazine in 2015 with an announcement for their fans and followers. The write up also includes suggestions for lovebirds and sex advice for them.

This magazine is not porn-oriented, but of fetish essence. It shows visuals of ladies wearing corsets, stockings, nylons, panties and high heels. On a monthly basis, it entertained its readers with lots of seductive content and adult news. Although, it is now no longer being launched now and was lastly issued in August 2012, but is still regarded among the memorable issuances of the adult industry. Once the people hear its name, and eventually, they got crazy for it, in fact, craving for it. The business stopped suddenly and it's one of the longest lasting griefs for its fans.
8. Perfect 10 – Buy Now

Norm Zada is the editor of 'Perfect 10'. This website used to be issued monthly and later it was published on a quarterly basis. Highlighting high-resolution undressed pictures of ladies, this e-magazine has now transformed into an erotic website in 2007. They also announce some titles on the basis of sex appeal and hotness of an artist. Michelle Marsh and other sensual girls have appeared on its front page. The upcoming year has much more to be brought by this flawless magazine.                                       
9. High Society – Buy Now

This adult magazine brings lots of erotic stuff on a monthly basis. It presents articles and pictures of celebrities along with pictorials of strippers and porn actresses. Introduced in May 1976, its first editor-in-chief was Gloria Leonard was a former adult artist. You can read it online as well by clicking the link mentioned above. It is giving a very tough competition to other publishers with its strong and updated content and high-quality pictures. It depicts a clearer picture of the current environment of the adult industry, their gossips, and affairs.

This monthly magazine features sex toys, homosexuality, and porn-related content. Published in the USA, it also features photos of nude models, sex pictorials, and other sexually-based write-ups. The cover of the magazine usually reflects nude models showing their boobs and butts. Magna Publishing Group prints this magazine and it comes once in a month. It is among the top selling adult magazines in the UK. People impatiently wait for it the whole month and as soon as they grab it, they just turn every page with a lot of excitement and enthusiasm.
Related Post:
Top 10 Best Magazines in The World of 2018
The Top 10 Best Adult Games for PC