None of us can claim that we don't know what a French kiss is. It means that French people are very much referred to making love and their lives are filled with romance and passionate sexual intercourses. So, we have collected ten French movies that are enriched with erotic content and it seems like these are almost porn.
With unique plots, talented cast, finest actors and marvelous locations, these movies are masterpieces that are evergreen and people can't get bored of watching these again and again. Generations will pass but the newness won't vanish. Counting from La belle noiseuse to The Lover let's check out the exciting list of the sex French films.
1. The Beautiful Troublemaker – Buy Now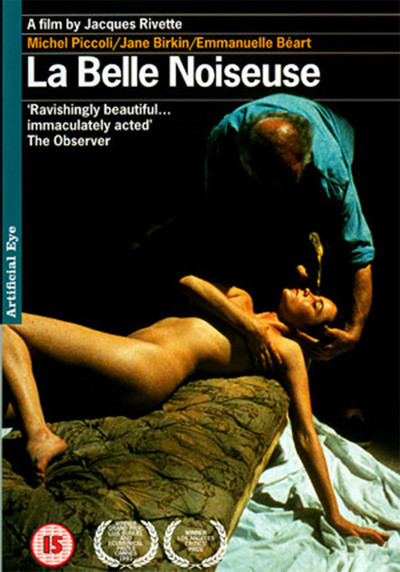 The love stories of painters and models are always on fire when it comes to love, art and passion. That's why this film, also known as La belle noiseuse (French title), has been listed on the top to show that no erotic film can beat the heat of an artist's love. This is about a physical and sexual involvement of a married painter with the seductive girlfriend of another young artist. The betrayal, romance and everything that can make a movie complete is here. The poster itself is declaring the high level of romance and nudity in the film.
2. My Nights Are More Beautiful Than Your Days – Buy Now

The movie's original title is Mes nuits sont plus belles que vos jours which is enough for you to getting attracted to watching it without wasting a second. Directed and written by Andrzej Zulawski, this French sex film is actually about the change in the life of an ill guy who met someone that turned his life into a beautiful happening. The romantic meetings and the passionate love making between the two washed their stress away deep inside their souls. The bonding of Sophie and Jacques are undoubtedly loved goals.
3. Lila Says – Buy Now

What happens when a fun-loving girl and a hopeless guy develop feelings for each other? This exciting film has an answer to this question. The love story of Chimo & Lila will let you experience some ups and downs they faced during their journey. The most-wanted Lila was the one on whom many boys have set their eyes on, but her love was only for one. Ziad Doueiri directed the movie and it was produced by Marina Gefter. The film was primarily presented on 1st November 2004 and is unforgettable for the audience still after 13 years.
4. Love Battles – Buy Now

Mes séances de lute is the original title of this adult movie. Released on 13th September 2013, the story of this movie is enriched with erotic content for which all of us crave. It is about a woman result in getting engaged sexually with a farmer. The title gives us an idea about how deep and passionate their intercourses would be which makes us curious to watch it. The cover also seems so sensual with a single glance. The cast includes Sara Forestier, Louise Szpindel along with James Thierrée.
5. Blue Is the Warmest Colour – Buy Now

By looking at the cover, you might have an idea about the lesbian love story of a teen with a blue-haired artist. Directed by Abdellatif Kechiche, Blue is the Warmest Colour is a captivating movie, the title of which is quite interesting as we have a look at it and start searching it's trailer and ends up loving the movie. The erotic moments between Adèle and Emma will awaken your desires and you'll end up either masturbating or given an oral/anal to your beloved. The magic of this movie will destroy your peace of mind and will awaken your horny side.
6. Manon of the Spring – Buy Now

Originally known as Manon des Sources, this unforgettable French film was released on 19th November 1986. This is the novel-based love story of a sensually gorgeous shepherd seeking revenge of her father's death. Directed by Claude Berri, the movie cast includes Emanuelle Béart, Yves Montand & Daniel Auteuil. It is award winning being a hit of the French film industry. It did a business of 56.4 million €. The hot and steamy scenes will drive you wild as you'll watch the stunning heroine getting nude for a bath.
7. Harem Suare – Buy Now

Released on 21st May 1999, this royal love story was made with a budget of $4.1 million. It's basically Turkish film in which languages including French and Italian were spoken. This is the story of the beautiful wife of a Sultan, Safiye who gave her heart to a neuter of her husband's personal guard, Nadir. The passion and love for each other rose day by day which lead to toughest situations in both their lives. Harem Suare has been an ideal fantasy for people deeply in love and if you're one of them you shouldn't miss to watch it.
8. The Sentiment of the Flesh –  Buy Now

After watching this movie, you'll automatically develop your interest in studying anatomy and will dream of having a sex partner either like Helena or Benoit. The plot is quite interesting as we'll see a student and a professional engaged in sexual intercourses due to their curiosity of discovering the body of the opposite genders. Released on 26th July 2011, this romantic-drama film is originally called Le sentiment de la chair. Directed by Roberto Garzelli, the film will leave you out of words as you'll watch the intense romance like no other.
9. The Story of O – Buy Now

Starring the super stunning Corinne Cléry along with Udo Kier, this French erotic film was released on 26th August 1975 and is novel-based. We bet you won't get bored as every scene of the film depicts the dream of every lover. Passionate love making and intense sex scenes have been shown. With lots of nude scenes and romantic moments, the story of this evergreen picture is constructed over the emotional, physical and strategic happenings in the life of a fashion photographer and her lover. French, Polish, and English have been spoken and including France it was premiered in Canada & West Germany.
10. The Lover – Buy Now

L'amant is the original title of this awesome movie starring the pretty actress, Jane March along with Tony Ka Fai Leung. The story is about the love affair of a gentleman with a young girl which gradually converted into sexual intercourses. Released on 22nd January 1992, the film was directed by Jean-Jacques Annaud. The intense romance between the man and the young teenage is beyond words. Let's take some time out to appreciate the film makers and watch the movie with your beloved cuddling on the couch.
Related Lists
The Top 10 Best Porn Hollywood Movies
The Top 10 Best Adult Hollywood Movies
Top 10 French Adult Movies
The Top 10 Greatest Adult Russian Movies